HÀ NỘI - BRG Group, on March 24, signed a joint venture agreement with Japanese Sumitomo Corporation to expand the FujiMart supermarket chain in Việt Nam to have 50 new stores nationwide by 2028.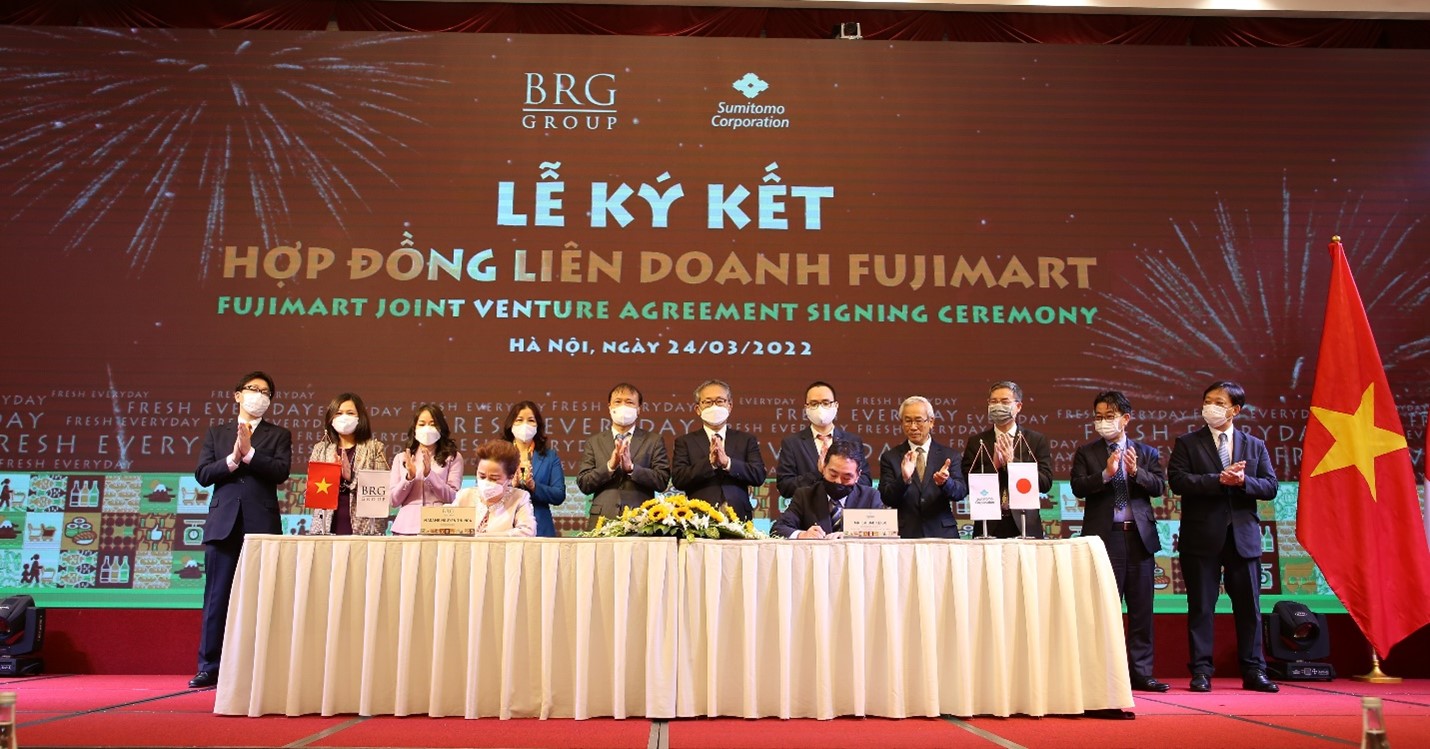 At the signing ceremony
Speaking at the signing ceremony, Shiomi Keigo, President and CEO of Sumitomo Corporation Asia and Oceania said: "FujiMart supermarket chain is a perfect combination between the two well-known brands of BRG Group and Sumitomo Corporation to bring clean, safe and fresh products daily in combination with dedicated service to end-consumers."
Việt Nam's retail market has developed strongly in recent years. The shift from the traditional retail model with small-scale stores to convenience stores and modern supermarkets has been recognised due to strong consumer awareness of hygiene and food safety changes.
In addition, the impact of the pandemic has forced consumers to pay more attention to their health by giving priority to fresh, delicious food with clear origins.
Under the agreement, BRG Group will work with Sumitomo Corporation to develop and expand the FujiMart supermarket chain with between 5 and 10 stores annually from 2022.
By 2028, the number of stores will reach 50 across the country. With this goal, FujiMart supermarket chain will serve more Vietnamese consumers to bring each product to consumers complimented by the Fuji Mart Japanese service culture.
Also at the ceremony, Madame Nguyễn Thị Nga, Chairman of BRG Group, said: "With our mission of creating the best value to the community, we are glad that FujiMart supermarket chain is becoming a friend of more and more families in Việt Nam by offering them with delicious, nutritious and safe food."
"This ceremony will also become a memorable milestone for both sides as it officially comes into a new phase in the retail industry. It is a part of a strategic partnership between BGR and Sumitomo. Both sides are working on a joint venture for smart city development in northern Hà Nội with a total investment capital of US$4.2 billion."
After more than three years, under a well-researched strategy to develop a real quality supermarket chain to meet the increasing demand of consumers, FujiMart supermarket chain is being welcomed by Vietnamese consumers. Customers can visit and buy products at 142 Lê Duẩn, 36 Hoàng Cầu and 324 Tây Sơn in the capital city.
Apart from the stores and supermarket chains that are becoming friends of Vietnamese families, such as the FujiMart supermarkets and BRGMart, BRG Group has also focused on expanding its business in other sectors, including pharmaceuticals, jewellery, and fashion, diversifying its product portfolio and exploiting domestic consumption potential.