Vietnamese private conglomerate BRG Group is working to perfect the Legend Valley Country Club, the next masterpiece of legendary golf course designer Jack Nicklaus in Kim Bang district, Ha Nam province, around 50km from Hanoi.
The Legend Valley Country Club is expected to complete the first 18 holes course in the second quarter of 2023, complementing the premier golf course collection under the group's management such as Kings Island Golf Resort (Dong Mo, Son Tay, Hanoi), Legend Hill Golf Resort (Soc Son, Hanoi), Ruby Tree Golf Resort (Do Son, Haiphong) Rooms), and Danang Golf Resort (Danang).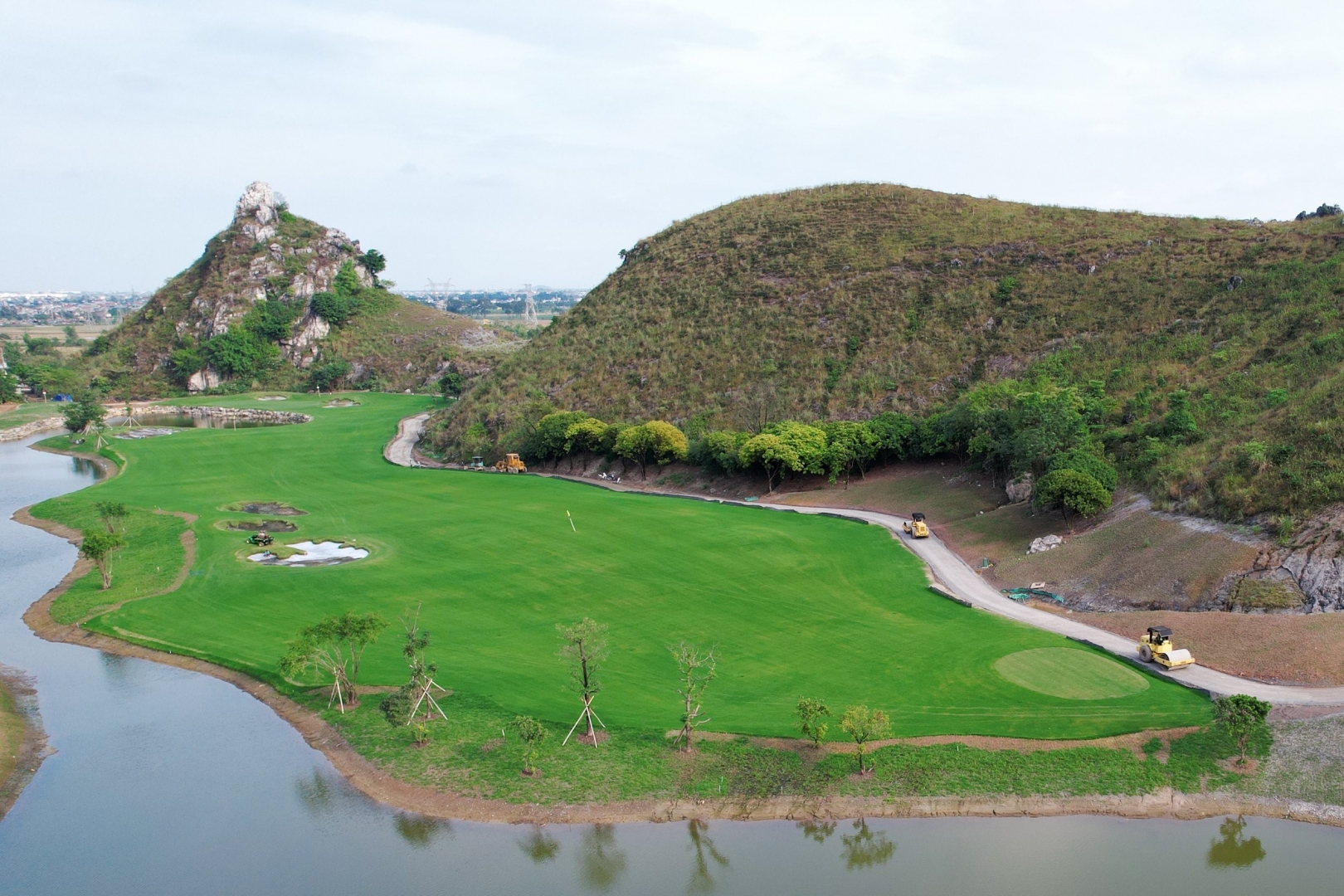 Part of Legend Valley Country Club
Mark Reeves, division director of BRG Group, noted that the majestic landscape of the northern mountains, combined with the talented hands of designer Nicklaus, would bring golfers an unforgettable experience when playing at this 36-hole golf course with twin green holes.
At the hole named Rose Valley, golfers can hit the ball along a valley of roses to get to the green and with just a slight misalignment, they can sense how challenging the rose bushes can be.
Following the great products in Vietnam such as the twin green golf course at BRG Legend Hill Golf Resort or the 19th hole at Kings Course at BRG Kings Island Golf Resort, through the dexterity of designer Nicklaus, the new complex would become a novel golf masterpiece in Vietnam.
When fully operational, the Legend Valley Country Club will feature two 18-hole golf courses and a world-class 200-room hotel perfectly catered to the needs of mixed tourism.
Golfers can not only experience an elite sport with a nearly 600-year history, but also embrace the adventure and cultural essence of Hanoi, Ha Nam and many more localities in the neighbourhoods surrounding places, such as Huong Pagoda, Tam Chuc Pagoda, Ong Pagoda, Tran Temple, Ngoc Dong rattan and bamboo craft village, and others.
The combination of golf experience with upscale hotel services in the same complex, means Legend Valley Country Club will help visitors reduce travel time, strongly enticing high-class tourists to Vietnam to compete and relax, enjoy nature with a distinct tropical four-season climate, as well as see historical sites with a rich history.
Vietnam has just been voted as "Asia's Best Golf Destination" at the 2022 World Golf Awards for the sixth consecutive time, along with a series of "World's Best Golf Destination" titles secured in 2019 and 2021.
Addressing the Asian Golf Industry Federation Danang Conference last August, Nguyen Trung Khanh, Director General of the Vietnam National Administration of Tourism, highlighted the importance of developing the golf industry as one of the key directions of Vietnam's tourism industry.

Support from the government will lay the groundwork for businesses to strengthen golf tourism for domestic and foreign guests, strengthening alliances in golf tourism development, and improving the quality of golf facilities with additional benefits such as resorts, restaurants, and healthcare.
(According to Baoquocte)