Facing a shortage of medical masks due to the Covid-19 pandemic, Hafasco – a member of BRG Group – has supplied to market anti-virus double-layered cloth masks through the BRGMart and Hapharco chains, meeting the needs of many organizations, businesses, and consumers in Hanoi.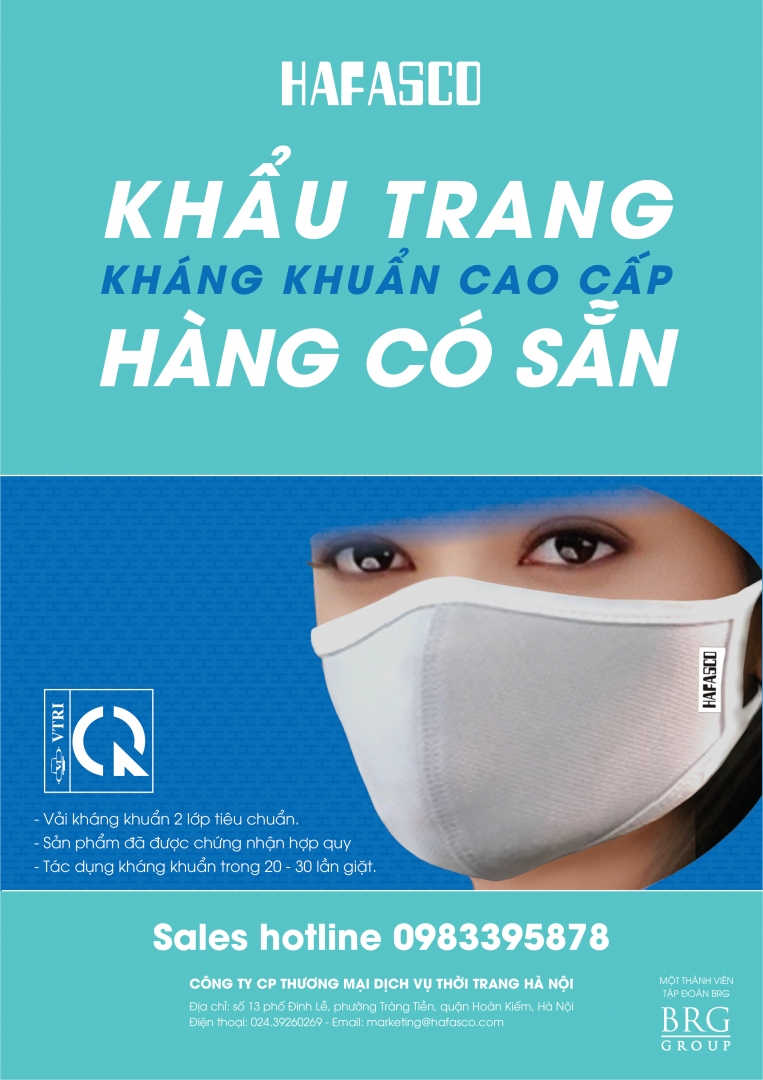 According to the guidance from the Ministry of Industry and Trade on promoting the production of anti-virus masks to prevent Covid-19, BRG Group directed Hafasco to focus on producing and distributing high-quality anti-virus double-layered cloth masks with a reasonable price through the BRGMart chain and Hapharco pharmacy chain, meeting the needs of many organizations, businesses, and consumers in Hanoi.
Hafasco's cloth mask uses Interlock fabric for the outer layer and cotton fabric for the inner layer. Therefore, the mask retains an anti-virus effect through 20-30 times washing while also preventing fine dust.
The product also does not cause skin irritation and is environmentally friendly. The product has been granted a certificate of conformity, quality assurance, and clear origin notices. With a production capacity of 1 million units per month, Hafasco will accelerate the introduction of a large number of masks, meeting market demand.
Besides distribution activities in the domestic market, another BRG Group member, trade promotion group Hapro has introduced Hafasco's high-quality antibacterial masks to ambassadors, counselors, and Vietnamese representative agencies abroad. The foreign trade promotion organization in Vietnam aims to take advantage of the opportunity to export high-quality Vietnamese-made products to a number of customers in key areas affected by Covid -19 worldwide.

With the mission to bring the best values ​​to the community, BRG Group is focused on deploying the best products and services to consumers. Hafasco's launch of cloth masks serving domestic consumption and export continues to be the group's affirmation in pursuing humanistic values.
Box:
Hafasco is a company with extensive experience in manufacturing, importing, and exporting garments, trading in fashion products with a history of 60 years of operation.
After becoming a member of BRG Group, the group's leaders provided various measures to help Hafasco develop. These included launching new fashion products to meet the needs of the market, such as high-class seamless products using the most modern electronic weaving line from Italy, and especially the high-quality antibacterial double-layered cloth mask, to meet the needs of customers during an unprecedented pandemic.