On March.13th, 2022, Sumitomo Corporation in cooperation with Hakuhodo, a Japanese advertising company, held the Opening Ceremony of Smart Life Station, the demonstration under the support from "SDGs Business Supporting Surveys" Program by Japan International Cooperation Agency (JICA) at condominium complex Le Grand Jardin, Long Bien, Hanoi.
This is a part of the smart services' research processes for the community at North Hanoi Smart City Project, which is jointly implemented by Sumitomo Corporation and BRG Group with an investment of nearly US$4.2 billion.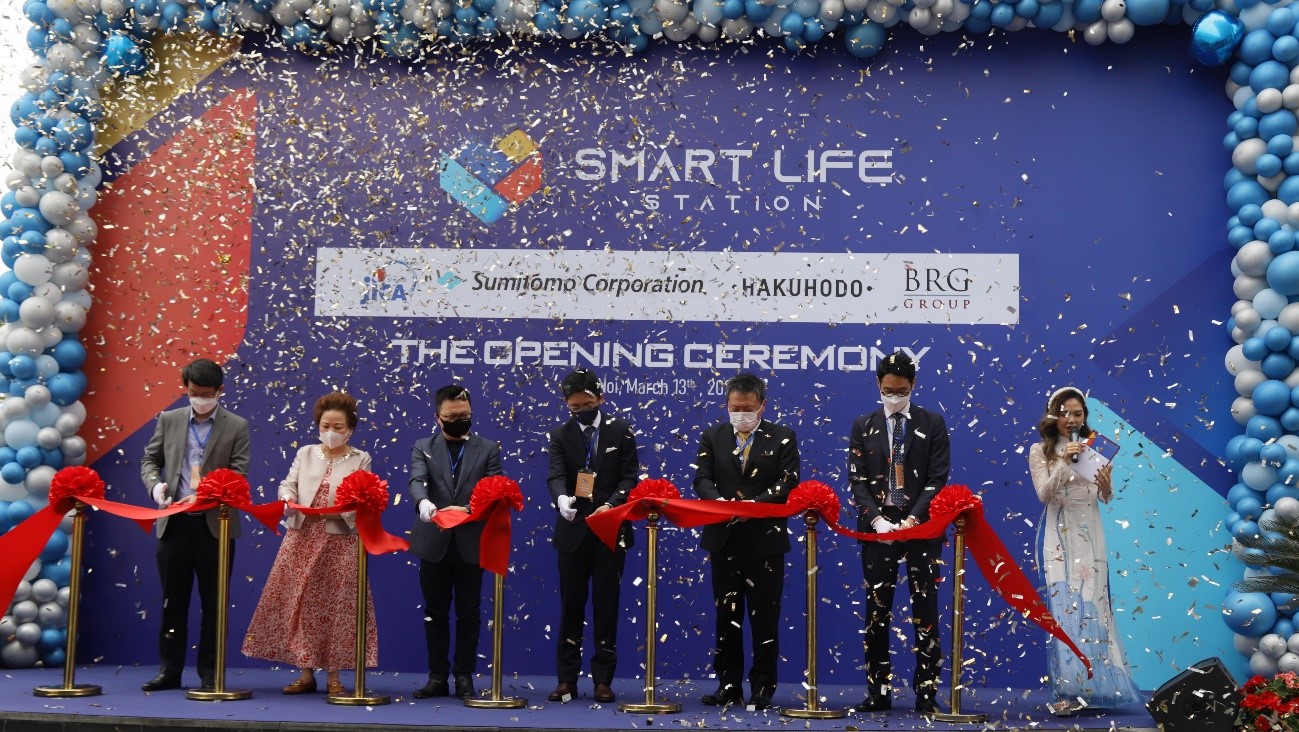 The ribbon-cutting ceremony to launch Smart Life Station. Photos courtesy of BRG Group
Smart Life Station will be conducted until the end of May. 2022. Through this demonstration, the residents' opinions and evaluations as well as demands will be collected to improve the quality of the demonstration, which will be applied extensively to future residents.
Madame Nguyễn Thị Nga, Chairman of BRG Group speaks at the ceremony: "For us, it is not only a smart city providing a comfortable life with modern technology, but also a city of happiness where people are delighted with their lives."
Madame Nguyễn Thị Nga, Chairman of BRG Group said: "The desire to reach high-level standards was a guideline for our international integration strategy - 'Heading to global' - from the very beginning."
"So far, BRG Group has cooperated with the world's leading companies to bring clients in Viet Nam world-class products and services in the fields of golf, hotels, resorts and retail.
"North Hanoi Smart City Project is a manifestation of the BRG Group's long-term vision when partnering strategically with Sumitomo Corporation ,one of Japan's biggest corporations, to build and create a firm foundation for the sustainable development of the central city on par with modern cities in the world, helping people enjoy the smartest and most advanced services right in Việt Nam."
Mr. Kohei Fukuzaki, Deputy General Director, Construction Group, Sales Management Group, North Hanoi Smart City Development Investment JSC, shared: "Through the development of the model of Smart Life Station, Sumitomo Corporation aim achieve smart and prosperous growth by providing a mechanism for residents to cooperate and co-create. In addition, we plan to develop this service as an open platform of touch point with residents for collecting their ideas and needs, so that we can cooperate with a variety of companies and also academic institutions for better life experiences. we expect that this challenge will finally contribute to the enriching lives for all the people in Vietnam"
Smart Life Station can solve some of the social issues in Vietnam which are arising due to the recent rapid urbanization such as lifestyle disease, obesity of children, lack of community space and lack of health awareness.
Smart Life Station is well-digitalized. Each resident will use the app to experience all the convenient services of the area. By successfully registering the app, residents can easily check-in with the Smart facial recognition system to participate in the activities here including: Goods Sharing Area : The area will provide a rental service for occasionally-used items for recreational activities, sports, etc. In addition, the zone also has a fully-equipped Skill Share Room for organizing classes and sessions sharing living skills or yoga and sports experiences for residents.
Play-Ground Area: This is a place for children to do physical exercises, play and promote their creativity aiming to their healthy development. Here, parents can still monitor their children remotely through smart IP cameras.
Health Check-up Area: Equipped with modern medical facilities, the area is where residents can come to satisfy their needs for a health check-up. Here, they can also seek useful healthcare advice from dedicated nurses.
Community Café Area: This zone will offer drinks and meals in accordance with recommended menus suitable to residents' health and living habits.
Smart Life Station model was established in the context of rapid urbanization, posing an urgent demand to provide an environment and community for communication and the development of children's skills in urban areas.