On November 16, BRG Group was granted the "Typical Enterprise for Employees" award from the Vietnam General Confederation of Labour. It is the third consecutive year BRG Group has been honored for its commitment to sustainable development and its "people-oriented" approach over the past 30 years.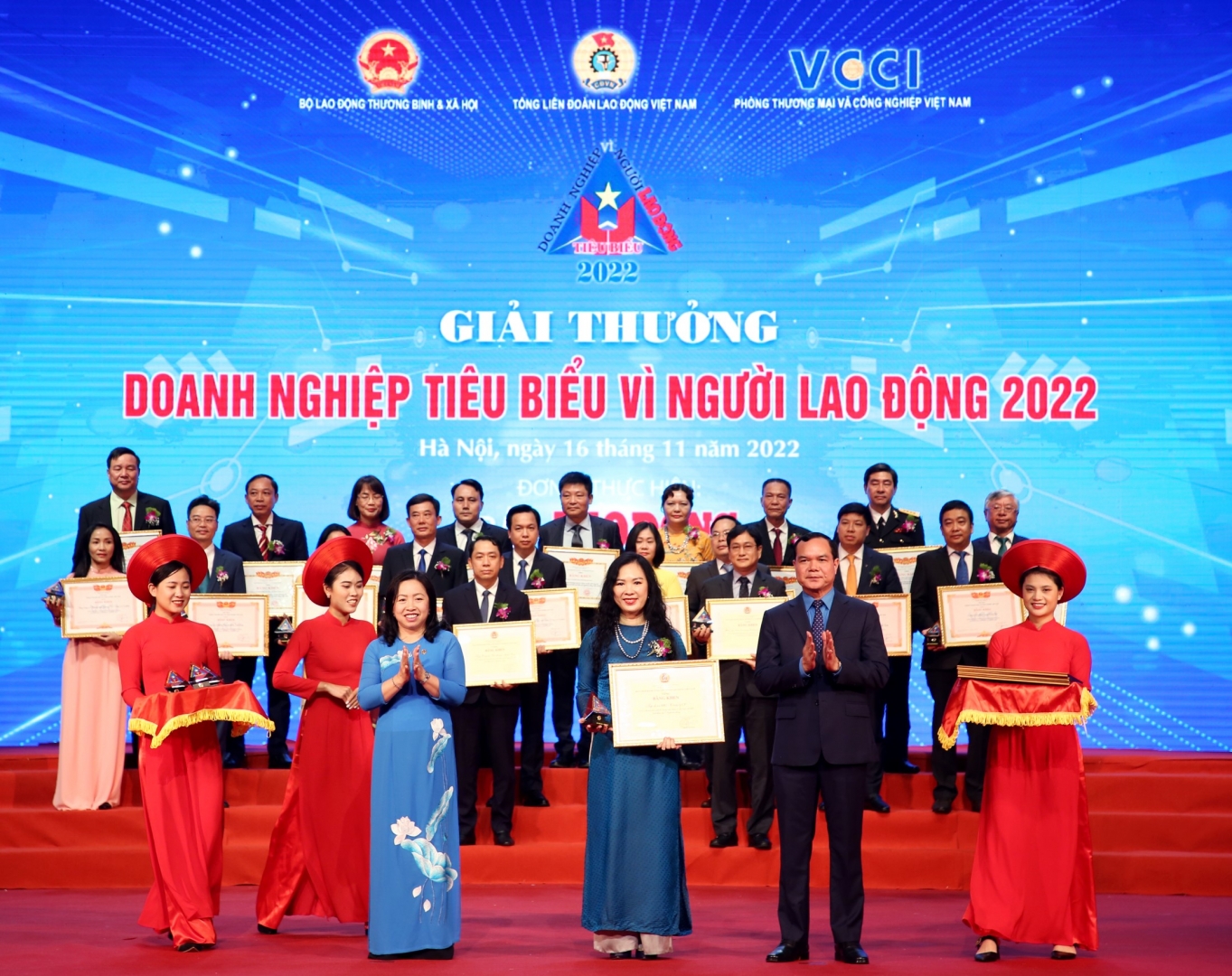 The BRG Group's representative received the 2022 "Typical Enterprise for Employees" award
63 typical businesses were highlighted for their accomplishments in 2022, their bold thinking and actions, as well as their ability to weather the COVID-19 storm. These enterprises also took care of their employees both during and after the pandemic, working tirelessly to establish a harmonious, stable, and forward-moving working relationship that included both the material and spiritual lives of the staff in a sustainable manner.
With more than 22,000 employees in numerous fields such as production, commerce, services, resort and real estate, retail, golf sports, etc., BRG Group is proud to be the leading multi-sector economic group in Vietnam. BRG Group consistently offers a clear and reasonable wage scheme with an appealing salary increase. In addition, BRG Group grants life insurance, annual medical exams, and other labour and welfare packages to every employee.
As a result of collaboration between the Vietnam General Confederation of Labour, the Ministry of Labour, Invalids, and Social Affairs (MOLISA), the "Typical Enterprises for Employees" awards have been organized by the Lao Dong (Labour) newspaper since 2014.
The selection program and celebration event are aiming to honor typical Vietnamese enterprises that enhance the working environment, care for the material and spiritual well-being of employees, and create harmonious, stable, and forward-moving work relationships for integration and development. The "Typical Enterprise for Employees" chart is updated every year, and the celebration event is given out every three years.
This event is the collaboration between the Trade Union, the employers community, and the State Department of labour. This is the result of the Resolution no02-NQ/TW dated on June 12, 2021 of the Politburo of the Communist Party of Vietnam (CPV) in order to reform the organization and operation of Vietnam Trade Union under the new situation and following the Directive no37-CT/TW dated on September 3, 2019 of the CPV's Secretariat on strengthening the leadership and making a harmonious, stable, and progressive work relationship in the new era.
Launched in July 2022, the "Typical Enterprises for Employees" awards have received and reviewed hundreds of submissions from top Vietnamese businesses. The awardees have been selected from a strict set of criteria made by top experts, then certified by the provincial services of Labour, Invalids, and Social Affairs, the provincial trade unions, the VCCI's Bureau of employers activities, and finally the Lao Dong newspaper's reports in localities. This list was also published in print and in the online version of Lao Dong newspaper for readers' comments