This year has been an extremely difficult time for the ASEAN economic community. However, there are enterprises that not only keep their business stable but also make significant contributions to prevention of the pandemic in the region – and the very best enterprises will be honored at the ASEAN Business Awards.
ASEAN Enterprises can registered for ABA 2020 at https://aba2020.vn
The Covid-19 pandemic has led to an economic crisis for ASEAN and beyond. According to the UN Policy Brief released in July, supply chain disruptions due to lockdowns and quarantine measures are affecting countries dependent on merchandise trade such as Singapore, Vietnam, Cambodia, Malaysia, and Thailand.

Countries reliant on remittances, such as the Philippines, are being hit hard as declining remittances weaken consumption and investment. Meanwhile, the measures to contain Covid-19 have affected the labour market. For instance, unemployment is expected to increase in Indonesia by 2.5 percentage points, Malaysia by 1.5 points, and the Philippines by 1.2 points.
Negative impacts are inevitable, but many ASEAN enterprises have overcome difficulties, and are making meaningful contributions to pandemic prevention. Commenting on these enterprises, Dr. Doan Duy Khuong, chairman of the ASEAN Business Advisory Council (BAC) in Vietnam said: "Many enterprises in the region have had to close or stop production, but there are also many enterprises with sustainable development methods, and their own solutions have not only maintained operations but contributed valuably to society to help ASEAN member states step by step overcome the pandemic."
In Singapore, businesses in the city-state not only contribute large amounts of cash and anti-pandemic items but also return or reject payout packages from the government. In May, when the pandemic was at its peak in Singapore, 32 businesses returned a grant of $35 million and another 29 companies stopped receiving payout packages.
In addition, in all other countries in the region, enterprises have done a great job in terms of social responsibility by actively contributing to the government with cash, equipment, or facilities for Covid-19 prevention.

In particular, a number of Vietnamese enterprises have continuously supported the battle with many different resources. This is also an important factor to help Vietnam become a bright spot in the region and further afield in reducing the impact of the coronavirus.
According to Dr. Khuong, the contribution of enterprises during the crisis is extremely valuable, thus honoring ASEAN business through the ASEAN Business Awards (ABA) this year is more special than ever.
As the chair of the ABA 2020 Awards, Madame Nguyen Thi Nga, Member of ASEAN BAC Vietnam and chair of BRG Group quote that "a smooth sea never made a skilled sailor" to visualise outstanding businesses and entrepreneurs during these challenging times. Madame Nga shared: "Covid-19 is the moment when the best businesses and businesspeople show their bravery and resilience to overcome difficulties when not only ensuring the sustainable development of businesses but also contributes to pandemic prevention. Therefore, ABA 2020 has a special stature, in a context that honors the outstanding businesses of the entire region."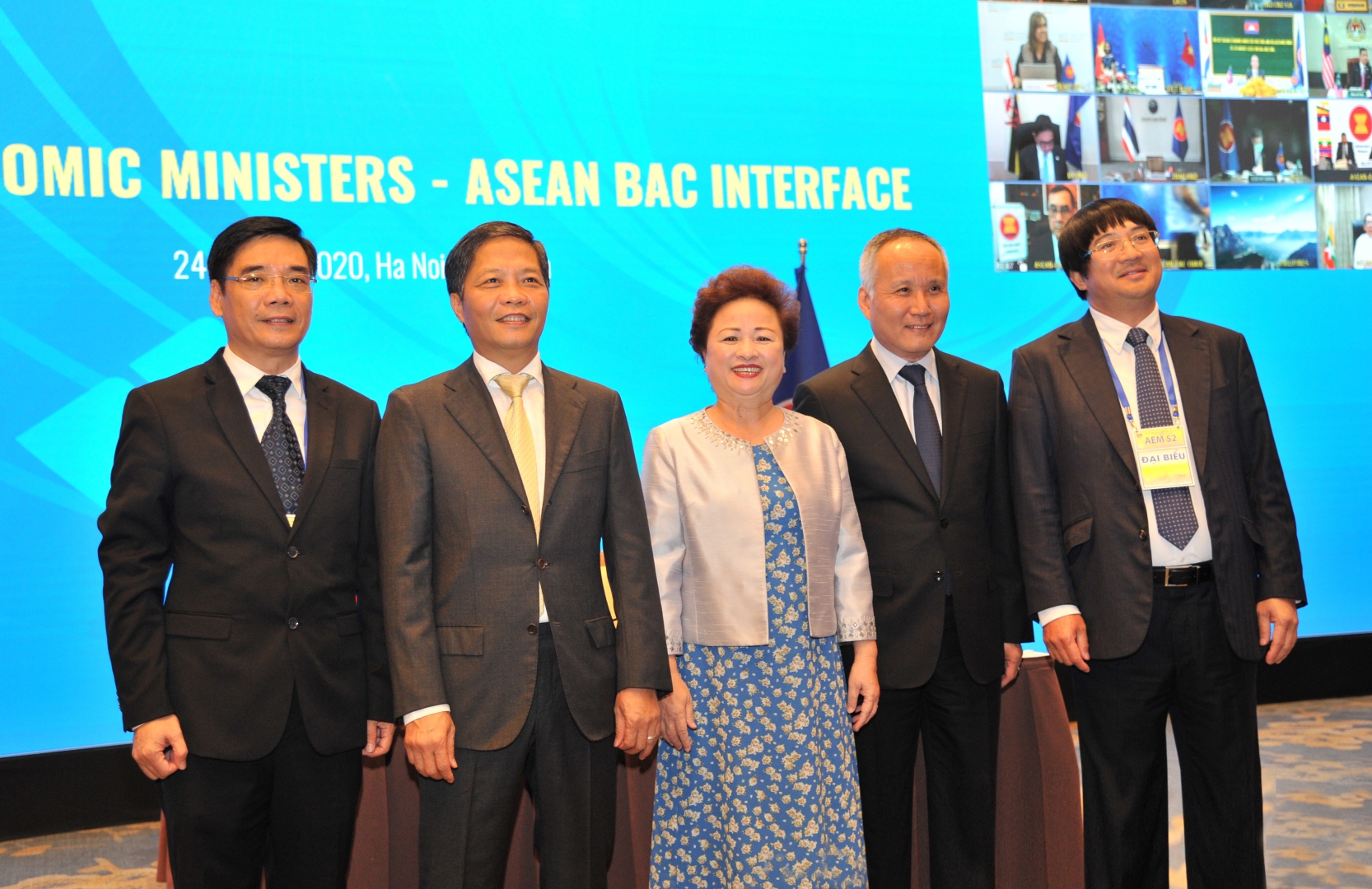 ASEAN BAC interact with ASEAN economic ministers
Most recently, in two important dialogues of the ASEAN BAC with leaders of ASEAN countries in the framework of the 36th ASEAN meeting and with ASEAN economic ministers in August, Madame Nguyen Thi Nga also reported on the importance of ABA 2020 to the ASEAN business community.

To ensure transparency and prestige around the awards, Deloitte Vietnam has been selected as a strategic partner for ABA. As a pioneer in the field of consulting and auditing with 30 years experience in the Vietnamese market and one of the four leading specialised service providers in the world with a wide network of operations, Deloitte worked closely with the Organizing Committee; the Chamber of Commerce and Industry, and ASEAN BAC and other prestigious partners to build up an awards system with the most scientific structure and scoring method to select the most deserving businesses and entrepreneurs across Southeast Asia.

In a special 2020 context, with the professionalism of the organizers and the support from ASEAN leaders at all levels, businesses across the region can see the award as an opportunity to honor their efforts to ensure the sustainable development of the business in the period of economic crisis.
Currently, ASEAN businesses can register in ABA 2020 through the website at https://aba2020.vn
Interview with Dr. Doan Duy Khuong, chairman of ASEAN BAC Vietnam, vice president of the Vietnam Chamber of Commerce and Industry.
What role have ASEAN enterprises played in the prevention of the Covid-19 pandemic in the region?

The implementation of social responsibility is something any business should do because this is a vital part of its own sustainable development. However, in the context of Covid-19, enterprises themselves have to face many difficulties when the consumption market is shrinking, production declines, labor is in shortage, and the value chain breaks. So the partnering of enterprises with the government during the crisis is extremely valuable, showing the spirit of solidarity to overcome the difficulties of businesses for the country.

The ASEAN BAC together with partners submit to the Senior Leaders of ASEAN countries a report named Path of Recovery and Hope for ASEAN. The report proposes the establishment of a special committee on Covid-19, consisting of members who are senior officials from ASEAN countries; and the establishment of the ASEAN Fund for economic recovery and pandemic response.
The report also includes 225 recommendations from the business community to help bring confidence in business operations, and to help ensure preventive measures for healthcare and essential goods and services supply chains, providing safe solutions for affected and vulnerable industries.

In addition, ASEAN BAC Vietnam in the year of being ASEAN Chair is implementing the ASEAN BAC Heritage Project: a Digital Start-up Network (Digital STARS) with the desire to create a business environment that supports digital transformation for businesses in Vietnam and across ASEAN.

Expected results of the Project in 2020 are 1) creation of the ASEAN Startup Network Portal: Digital Technology www.digital-stars.vn; 2) A survey report on Covid-19's impact on businesses and response through digital technology application in Vietnam; and 3) the program to announce the Directory of Digital Transformation solutions in Vietnam - Digital STARS Showcase 2020.

Up to now, I think that many ASEAN businesses are performing their roles well in supporting the community when not only ensuring job stability, but also contributing a lot of resources towards disease prevention.

ABA is an annual ASEAN BAC award with 14 years of history. Why is this year's ABA more special than previous events?

Businesses are doing very well in their roles in the most difficult circumstances to contribute to society. And with that dedication, society needs to have special honors for businesses, and this is what ABA 2020 is aiming for.
By participating in ABA 2020, ASEAN businesses will be honored and value will spread to the community, and by that we mean the most important and precious values ​​that enterprises have built up in recent years. In the context of businesses facing great difficulties due to the Covid-19 pandemic, this year's ABA 2020 will have a special category of awards to honor businesses that not only passively respond but also actively overcome Covid-19.