On April 1, BRG Group officially opened 10 new HaproFood-branded retail stores for the BRGMart chain in central locations to make it easier for Hanoian citizens to purchase consumer goods while the Covid-19 pandemic was at its peak in the country.
The extension also implemented the direction of the Hanoi city government in assigning a system of supermarkets in the area to store and meet the needs of locals in every situation of the pandemic, and to ensure price stability.
The move from BRG aimed at fulfilling the duties of the business to the community by contributing to ensuring a source of essential goods for all, and maintaining stable food security as social distancing measures were put into place.
Nguyen Thai Dung, Chairman of the Hanoi Trade Corporation (Hapro), a member of BRG Group, shared: "In the context of the country working together against Covid-19, and as a major commercial unit of Hanoi, Hapro has focused on promoting retail activities, setting up more stockpiling plans, and pledging to stabilise prices in order to contribute to stabilising consumer psychology of the capital's people."
Dung added, "On the occasion of opening 10 new HaproFood-branded retail stores, we offered many attractive promotions for customers such as product discounts of up to 30%, giving priority to focus on essential consumer goods such as Dong Thap Hapro rice, Hafasco-branded cloth face masks, Crystal-Thuy Ta pure water, instant noodles, cooking oil, milk, and more. We will also free ship goods within a radius of 5km for orders worth more than VND500,000."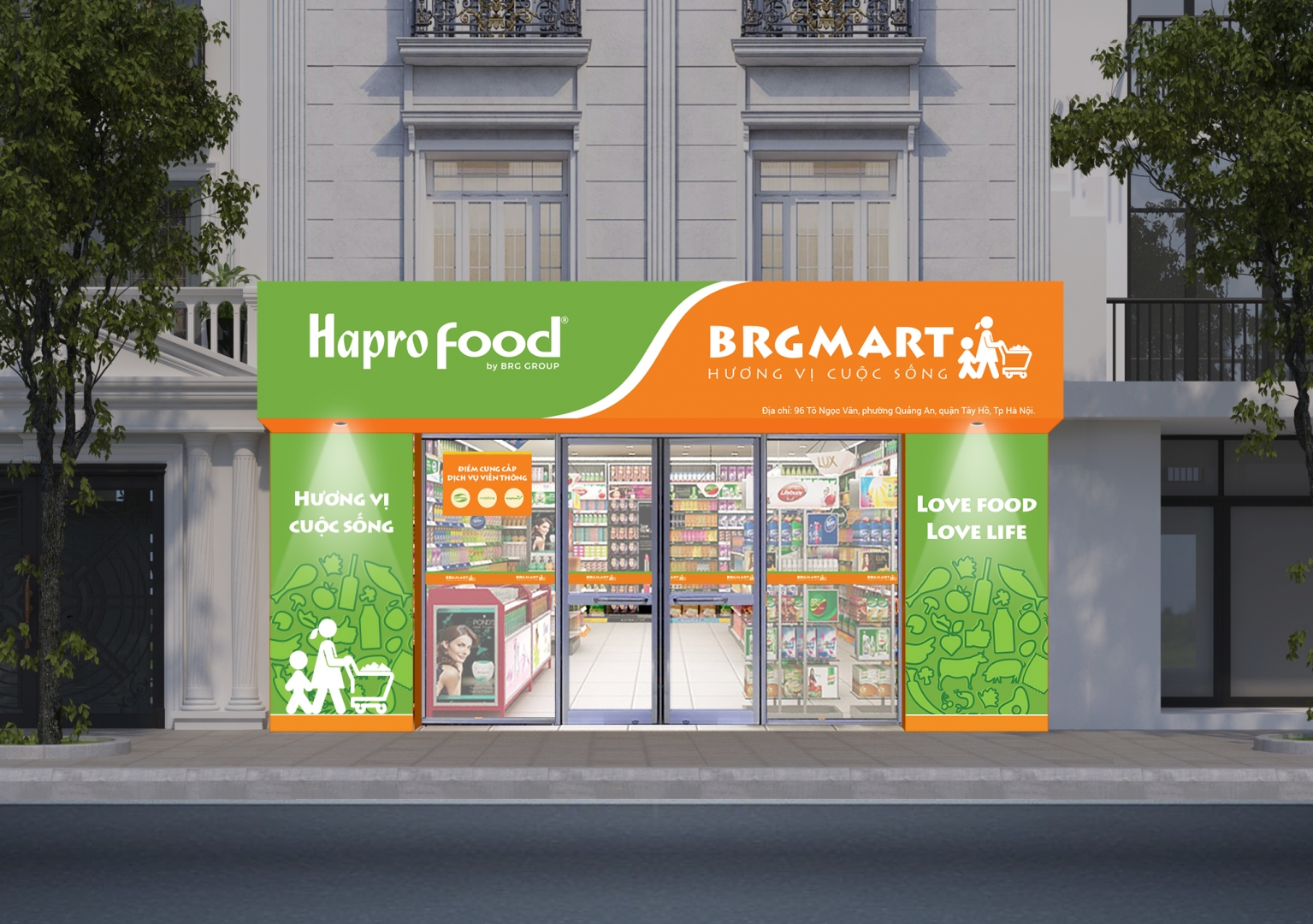 HaproFood retail stores in the BRGMart chain are expected to be a popular shopping destination for citizens.
The new retail stores in the BRGMart chain were opened on central streets of Hanoi including Hang Bai, Hang Buom, Hang Dau, Doi Can, Lo Duc, Ton Duc Thang, Tho Nhuom, and Trung Hoa-Nhan Chinh. The stores will provide a full range of essential products to people at a stable price, especially in regards to the 13 groups of goods included in the city's price stabilisation program.
In addition, the retail stores set up information signs including Covid-19 prevention instructions; and customers were required to wear a mask and wash their hands with sanitiser before shopping.
BRG Mart, which includes Intimex Home & Food, HaproMart, HaproFood, Seika Mart, and FujiMart-branded stores, also promoted multi-channel sales such as via email, fanpage, phone, and home delivery. These not only meet the shopping needs of the people at a time when leaving the house was a limited option, but it also helped reduce the concentration of crowds to prevent the spread of disease to the community.
Meanwhile sales and delivery staff of the BRGMart chain have been following Covid-19 prevention rules such as wearing a face mask, washing hands with sanitiser, or wearing gloves.
This is the next strong step from the BRG Group's retail chain system in order to assert the responsibility of a leading multi-sector private economic group in Vietnam to the community.
With many drastically-implemented solutions, the BRG Group's retail chain system has received the trust of the authorities and people in many districts of Hanoi, Hai Duong, Hai Phong, and elsewhere to provide diverse items to serve the needs of businesses and people in each area.
Locations of the 10 new HaproMart-branded retail stores in the BRGMart chain:
No.

District

Address

1

2

3

4

5

Hoan Kiem

53D Hang Bai

102 Hang Buom

52 Hang Dau

5 Ham Tu Quan

41 Tho Nhuom

6

7

Hai Ba Trung

30 Lo Duc

198 Lo Duc

8

Ba Đinh

15-17 Doi Can

9

Dong Da

268 Ton Duc Thang

10

Cau Giay

N4C Trung Hoa - Nhan Chinh