On Saturday, December 5th 2020, Diamond Westlake Suites had the honor to receive the award
Under the leadership of the Hanoi Department of Industry and Trade, this award is a recognition for organizations that have achieved a certain level of "green" energy use in their consumption and whom have a strong commitment towards corporate social responsibility in environment sustainability.
Among eighty applications, Diamond Westlake Suites was designated as one of the 42 eligible businesses in Hanoi to compete. The evaluation process mainly evaluated the energy efficiency with energy simulation tools and building energy management systems.
Diamond Westlake Suites was one among the seventeen registered companies in Hanoi to receive five stars (maximum level) in the performance review and one of the two award-winning hotels in Hanoi.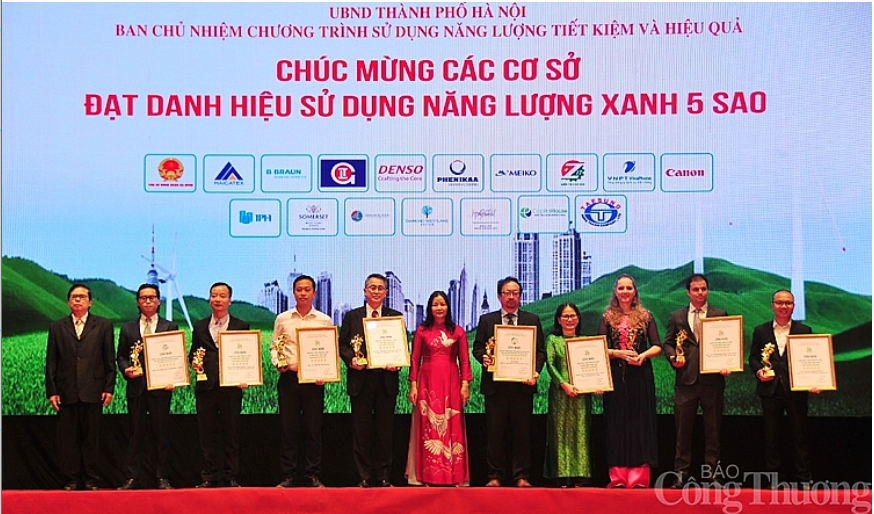 M Cedric Fontbonnat, general manager of Diamond Westlake Suites, receiving the award for "five-stars" in the "green energy" performance review.
Preceding the award ceremony, Diamond Westlake Suites received a reporter team from Hanoi TV who filmed the area with aerial views of the premium residence and the garden, which was shown "on live" during the award ceremony.
In order to achieve this performance, Diamond Westlake Suites management established and implemented several "saving energy" program such as :
Air-conditioning: the whole air-conditioning system was changed in 2019 to a higher efficiency central air conditioner LG system. Moving to a new system mainly aimed to improve tenant's comfort but also to replace the former CFC gaz which damages the ozone layer to a HFC one;
Lighting system: the entirely lighting system located in the public area were replaced by LED one which supports to reduce the energy consumption;
Rainwater gutter system: in 2020, we installed a rainwater gutter system which collects the rain water to be stored in water tanks. Rainwater is a valuable natural resource and also a substitute for clean water to maintain a green garden;
Use of domestic waste water: after being filtered, the water is used for watering plants;
Corporate social responsibility: several programs were made such as limitation of the use of plastic in our laundry, participation in the international environment day on June and regular "saving energy" reminded are made towards the employees. Designed and dedicated posters are being displayed for a greater impact.
A great achievement that Diamond Westlake Suites management aims to pursue to contribute further to the environment protection as well as inspire others.
About Diamond Westlake Suites
Diamond Westlake Suites is a proud member of BRG Group, a growing corporation specialized in the banking, real estate, golf and hospitality industry. Located on the north-eastern fringe of Hanoi's scenic West Lake, Diamond Westlake Suites combines the comfort and convenience of a premium residence while the facilities and dedicate services will make you feel like you are staying in a resort, at the gate of Vietnam's capital. With 165 fully furnished and modern apartments and villas (from one to four bedroom), Diamond Westlake is the perfect hideaway for both long-stay and short-stay in Hanoi.