With more than 30 years of experience and many achievements, chairwoman of BRG Group Nguyen Thi Nga believes that business development and community outreach go hand in hand.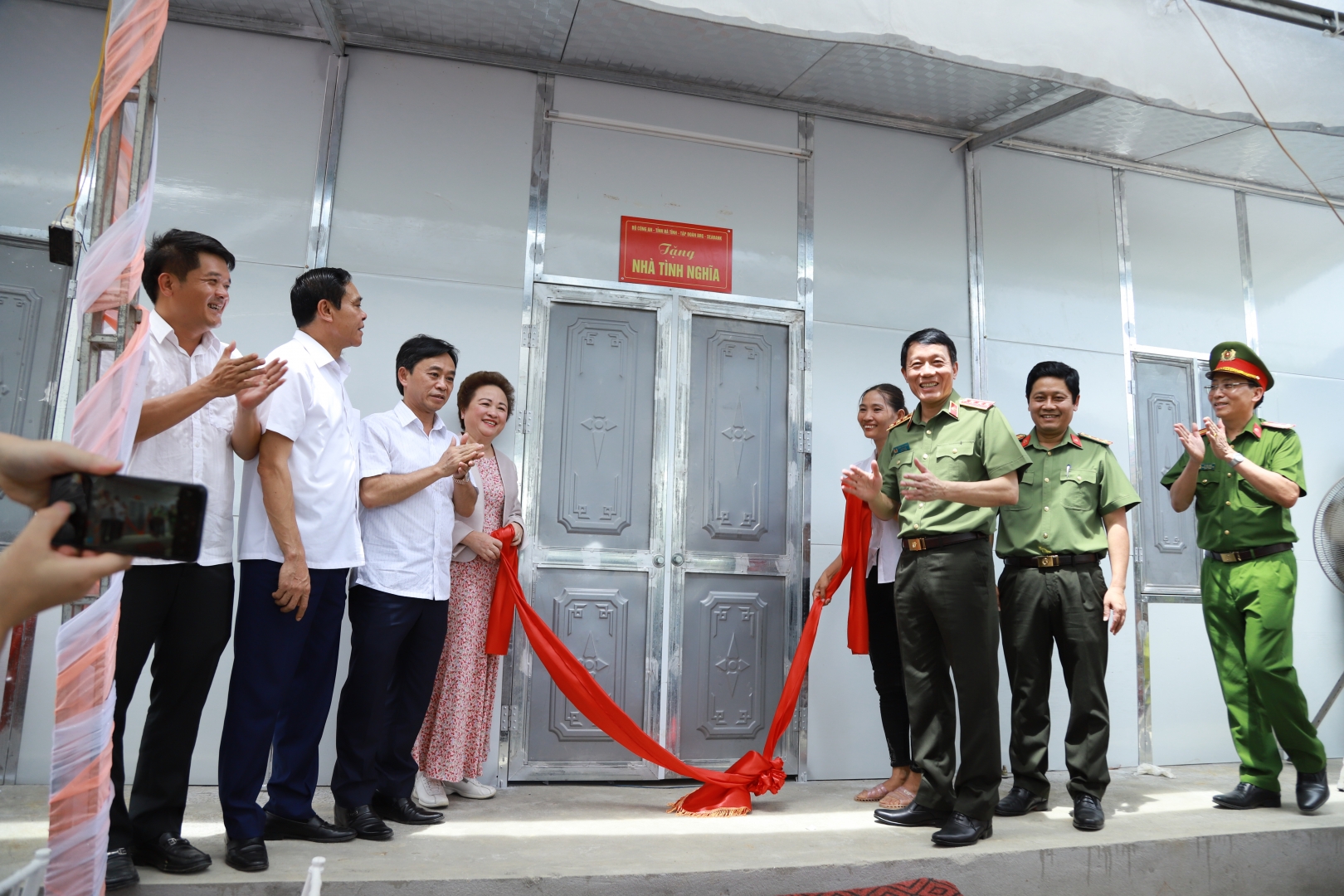 Since the beginning of 2023, BRG Group and SeABank have sponsored the construction of 1,200 houses for households with difficulties in the two provinces of Ha Tinh and Nghe An with a total cost of up to VND60 billion.
October every year is a month of community activities with social security and support programmes for the disadvantaged, organised by the People's Committee and Vietnam Fatherland Front Committee of Hanoi city. Several names belonging to BRG's ecosystem appear in the list of actively participating businesses.
Right from the beginning of the month, BRG Group and Southeast Asia Commercial Joint Stock Bank (SeABank) personally handed over VND1 billion (nearly $43,000) to support the "For the poor" fund of the city. Last year, the group also donated the $21,700. In 2020, in response to the "Day for the Poor" campaign, BRG Group and North Hanoi Smart City Joint Venture Company donated $43,500.
This is one among a vast number of social activities BRG and businesswoman Nguyen Thi Nga are prioritising. During the pandemic, despite serious impact on the whole BRG's business ecosystem, the group was willing to share with the government and community, with more than VND200 billion ($8.43 million) funding for pandemic prevention and control. Additionally, since early this year, BRG and SeaBank have funded for the central coast provinces of Nghe An and Ha Tinh to build 1,200 houses for poor households with a total value up to VND60 billion ($2.53 million).
Prioritising community and social activities is a key driver of the BRG Group ecosystem, affirming the role and responsibility of a model enterprise of the capital. This spirit originated from Nga, and has been continued by her colleagues and employees ever since.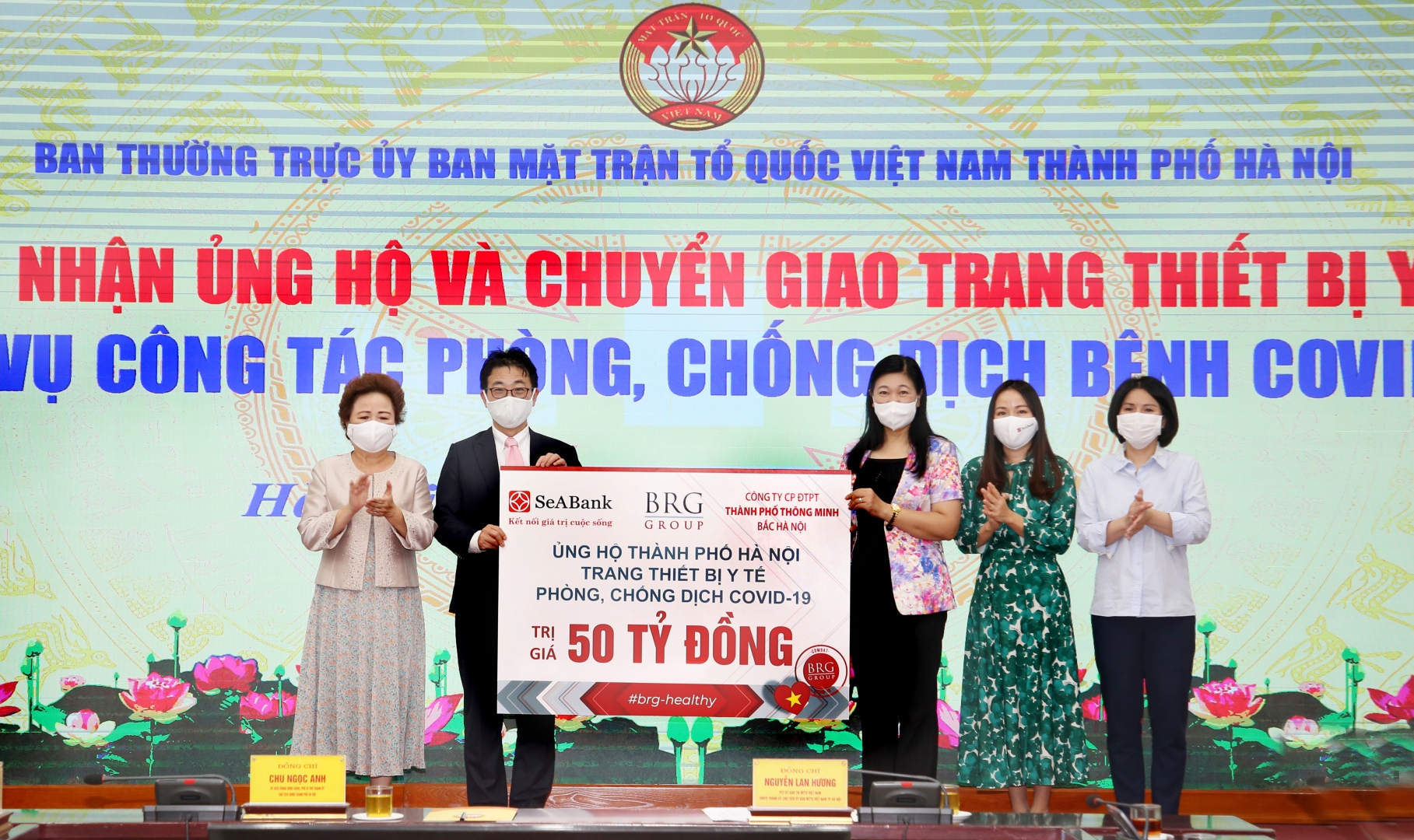 BRG Group, SeABank and North Hanoi Smart City company supported essential medical equipment to prevent and fight against the Covid-19 pandemic in Hanoi with a total value of VND50 billion (August 5, 2021).
Nga is a familiar businesswoman in the Vietnamese business community, and is typical of the generation of female businesswomen who emerged after 1986. She has been honoured many times, including being awarded the First-class Labour Medal for her positive contributions to socioeconomic development.
With a "Going Global" strategy, Nga sets high goals with the desire to bring Vietnamese brands to the global market. Nga and BRG Group have become strategic partners of the world's leading brand names in retail, luxury hotels and resorts. But behind her fierce and enterprising spirit, Nga is also a traditional Vietnamese woman who has a great passion for cooking, loves the arts and culture, and devotes herself to the community with her mindset: "The highest goal of business is for the community."
Besides world standard golf courses qualified to host top continental and international tournaments, and contributing to making Vietnam one of the world's top golf destinations, Nga creates significant imprints in luxury hotels and resorts. She and her Group created the "June has 90 days" story at Sheraton Grand Danang complex to serve the APEC 2017's State Banquet for leading world leaders from the US, Russia, China, and Japan, along with a vast number of high-end hotels and resorts under world luxury brands in Hanoi, including the Waldorf Astoria Hanoi and Four Seasons in addition to many other successes.
Despite her schedule, she is willing to arrange time to participate in charitable activities. At the launch of the Swing for the Kids charity golf tournament organised by VIR four years ago, the chairwoman committed to accompanying the charity golf tournament forever.
Since then, Nga and BRG representatives have accompanied each activity of the programme as a co-organiser, an entrepreneur, and a business that strives to bring learning opportunities to thousands of disadvantaged Vietnamese children across the country.
"I feel like I need to try harder to contribute more to society. Our pride is not only for the certificates of merit and achievements we have received, but mainly from the good values ​​that we can contribute to the community," Nga said.
The businesswoman actively connects business performance with community values. For recruitment story, BRG Group consistently focuses on developing industries to create more jobs for female workers, especially those in difficult circumstances.
"More than 80 per cent of employees working at 100 BRGMart supermarkets are women. Meanwhile, in localities where BRG golf courses and projects are present, thousands of new jobs have also been created with 95 per cent of employees being women," Nga said.
Earlier this year, Nga continued wrote an interesting chapter in her journey when she joined hands with the Japanese Embassy to Vietnam and famed designer Kobayashi Eiko to successfully organise an acclaimed kimono - aodai fashion show.
The show not only strengthened the already close friendship between Vietnam and Japan, but also contributed to promoting the beauty of the two countries and two nations' national costumes.
"During its 30 years of operation, BRG Group has consistently sought out partners who not only have warm hearts and influence all over the world, but also share the same goal of improving the quality of people's lives," Nga said.
This businesswoman does not work for certificates alone. For her, doing business responsibly is a way for kindness spread, contributing to a more sustainable life.
(From Vietnam Investment Review)