Hanoi, 9th August 2012 - BRG Group is proud to announce the 1st Annual BRG Golf Championship 2012. The BRG Group will host 120 of the most prominent golfer's in Vietnam over two days and 36 Holes at the - Doson Seaside Golf Resort on 25/8/2012 and Kings' Island Golf Resort on 26/8/2012.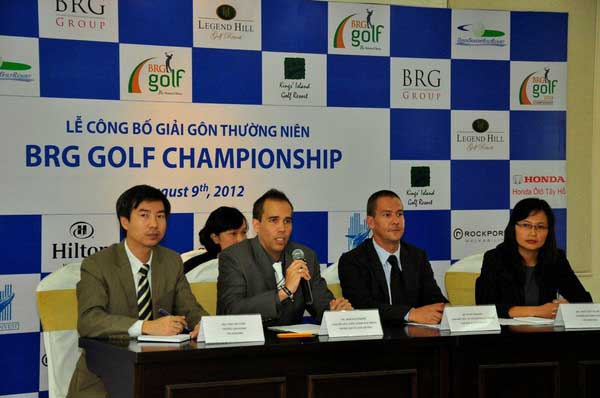 The BRG Golf Championship has been the vision of Chairwoman, Madame Nguyen Thi Nga to organize an annual Golf Championship by the BRG Group – the Group owns 3 prestigious golf courses in Northern Vietnam including Kings' Island Golf Resort, Do Son Seaside Golf Resort and Legend Hill Golf Resort which is currently under construction with an opening date in Mid 2014..
The BRG Golf Championship will be comprised of 5 divisions based on the golfers' handicap consisting of 2 male divisions, 1 female division, the Callaway division and a division for sponsors.


The tournament will start on Saturday 25/8/2012 at Do Son Seaside, the shotgun starts at 12:30. The second round of the 36 hole tournament starts at 2:30pm, on Sunday 26/8/2012 at Kings' Island.


Mr. Jamie Westenburg- Chairman of the tournament says: "We have devoted to this tournament. I believe that BRG Golf Championship 2012 will be the most successful and talked about golf event of the year. The tournament will not be similar to the previous organized events, as we will create an experience of a PGA tournament for all golfers. We are able to ensure bringing to the participants an amazing golf experience, and create interest with special contests throughout the 36 hole tournament".


All invitees will be adorned with custom gift sets each day that will be sure to please. Over the two rounds we have scheduled some unique skill challenges within the regular competition of the BRG Golf Championship for your added entertainment. Participants will be challenged at different points on the courses' and compete for additional prizes


The BRG Golf Championship will challenge all participants and give all players a chance to compete for a golf tour for 2 persons to Singapore, modern LCD TV's, Calaway golf equipment and many more prizes in this 2-day extravaganza event. In addition, The BRG Golf Championship 2012 has 08 Hole In One Prizes, featuring a Honda Civic car, Complementary Membership Cards of Kings' Island Golf Resort, Do Son Seaside Golf Resort, and MORE!
The main current Sponsors of the tournament are SeABank, Mobifone, HSBC, Hilton Hanoi Opera, Archi, Asiana Airlines, Vietnam Airlines, Blue Bird Wine, Golfshop Vietnam, Titleist, Tee Off, Normal Estates, Coca Cola, Heneiken, Tiger, Hồng Ngọc Hotel, Hồng Ngọc Hospital ...


On this occasion, BRG Group also officially introduces a new policy for members joining in the golf club of Kings' Island Golf Resort and Legend Hill Golf Resort with many preferential treatments such as a discount/promotion for the current members and the new ones. To help celebrate the new membership products available, the first 25 members joining the Club will participate in a lucky draw with a chance to win a Honda Civic and many other amazing prizes.
Information of BRG Group
BRG Golf Group includes of the Premier 36-hole Kings' Island Golf Resort, 18-hole Doson Seaside Golf Resort and 18-hole Legend Hill Golf Resort that is currently under construction. It is the strongest and the most radical golf course management and construction investment group in Vietnam. BRG Golf Group has over 20 years of experience in the golf market in Vietnam and the Group continues to develop its strength to confirm its leadership within the golf market by a combination of Hospitality, Championship Golf Courses, 5 Star Clubhouses, and Outstanding Services.


-          Kings' Island Golf Resort - Son Tay, Hanoi - 36 holes, was designed to incorporate the natural scenery of Tan mountain and Da river, including 2 courses the Lakeside and Moutainview. The information is detailed at
www.kingsislandgolf.com


-          Do Son Seaside Golf Resort - Do Son, Haiphong - 18 holes, bordered by the Gulf of Tonkin in the East and the Dragon mountain South-West, surrounded by nature with the fresh breeze and scents of the sea. The information is detailed at
www.dosonseasidegolf.com


-          The newest course is Legend Hill Golf Resort - Soc Son, Hanoi – 18 holes, uniquely design with "twin greens" (each hole has 2 greens) designed by the world's leading designer - Nicklaus Design (USA – established by Golf Legend - Jack Nicklaus). The golf course's landscape is a combination of ancient and romantic beauty of Soc Son mountains with historical and cultural values. The information is detailed at
www.legendhillgolfresort.vn
For other information, please contact
Communication Dept – BRG Group
Address: 5th floor, 18 Ly Thuong Kiet, Hanoi
Tel: 04 3939 3691 | Fax: 04 3939 3693
Website: www.brggroup.vn
championship.brggroup.vn