With a donation of VND10 billion ($435,000) in the framework of a program to fight Covid-19, organized by the Hanoi Fatherland Front Committee on June 19, BRG Group and Southeast Asia Joint Stock Commercial Bank (SeABank) have demonstrated positive and prompt contributions from its production and business budget with the desire to work together with state management agencies to help vaccinate more of the population, helping Vietnam overcome the pandemic and for livelihoods to be protected.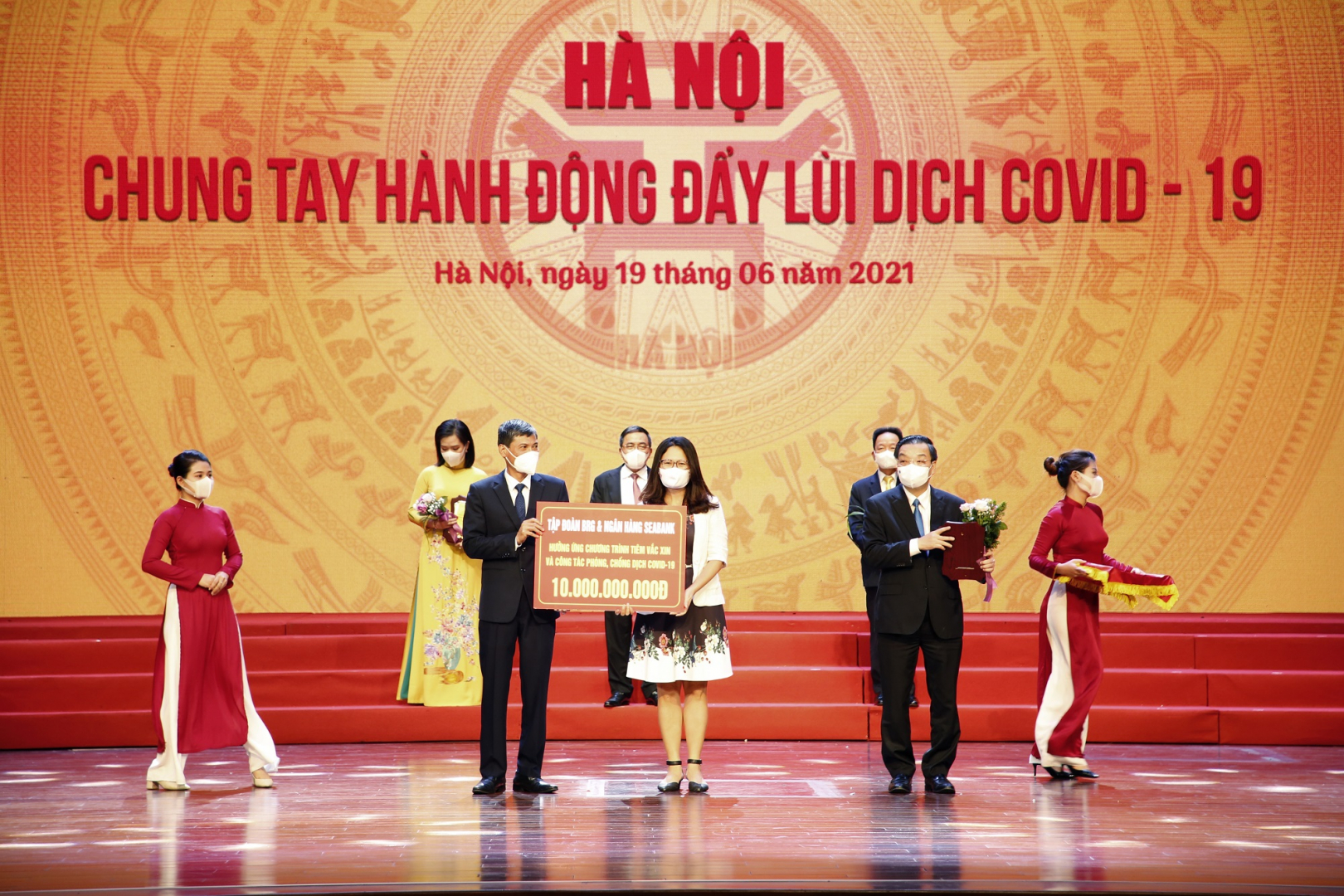 Representatives of BRG Group and SeABank handed over VND10 billion
At the start of June, BRG Group and SeABank donated VND20 billion ($870,000) to the national Covid-19 vaccine fund. A fortnight later, the pair also increased the amount of support for Bac Giang province to more than VND3 billion ($130,000). This raised the total amount contributed by both BRG Group and SeABank for activities during the pandemic to VND47 billion ($1.04 million).
For BRG Group and SeABank, support activities require not only efficiency but also urgent and timely responses. Such activities to help overcome the pandemic have been implemented by the two groups through various forms such as donations through central and local authorities, directly supporting labourers, donating antibacterial masks, and providing necessities to people across 27 cities and provinces nationwide.
The practical and effective actions of BRG Group and SeABank have contributed to the fight against the pandemic, while at the same time reaffirmed the faith and spirit of people to fight against the pandemic in the national name of construction, protection, and development of the country. These contributions have partly provided affected people with more motivation to overcome difficulties and quickly control the pandemic, while they also illustrate at the same time the social responsibilities of BRG Group and SeABank in contributing to the pandemic battle.
Social responsibility activities have always been one of the top priorities of BRG Group as well as its member companies in the BRG Group ecosystem for many years. These activities demonstrate the spirit of model corporate citizens as they accompany authorities and people from central to local levels.
Since early 2020, BRG Group and its member companies have actively participated in many pandemic-related social responsibility activities, at a total sum of nearly VND64 billion ($2.78 million). Of which, activities to support the fight against Covid-19 alone reached VND47 billion ($1.04 million), in addition to offering support for poor and disadvantaged people in the Central region and elsewhere affected by natural disasters; and providing support for social security funds and charity funds, among other actions.