Ho Chi Minh City, January 19, 2022 – BRG Group was named as a top 10 investor for both 2020 and 2021 at the BCI Asia Awards 2020/2021 for its 6-star Four Seasons Hanoi and 5-star DoubleTree by Hilton Vung Tau projects.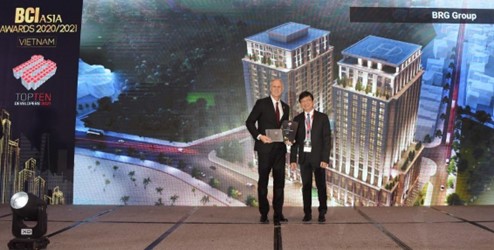 A representative of BRG Group received the award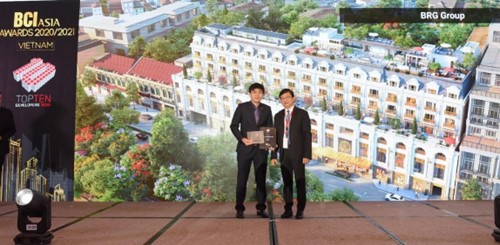 A representative of BRG Group was on hand at the BCI Asia Awards
Speaking at the award ceremony, Mark Reeves, Branding and Creative Director at BRG Group said: "Gaining this award for both 2020 and 2021 is valuable recognition for the continuous efforts of BRG Group. This is also the pride and joy of all employees of the group for their commitment to contribute their best to the development of BRG Group and the country in general."
Located in a prime location by Hoan Kiem Lake, Four Seasons Hanoi is the first in the capital with the world-class Four Seasons brand. BRG boasts the goal of developing more high-end hotels in Hanoi to attract businesspeople and tourists, as well as serve the needs of domestic and international conferences and seminars.
The DoubleTree by Hilton Vung Tau Hotel meanwhile is located at the center of Front Beach, one of the most beautiful and famous beaches of Vung Tau. DoubleTree by Hilton Vung Tau is a complex of office buildings, high-class tourist apartments, and a 5-star hotel. With international standards and modern facilities, the hotel promises to be a new, luxurious, and high-quality accommodation, contributing to promoting the image of coastal city tourism.
After more than 20 years of development, BRG Group has continued to take steady steps to become a leading multi-industry economic group. With national and regional standards, it provides quality services in many fields including real estate, hotels, resorts, amusement parks, golf courses, commerce, retail, services, manufacturing, and construction.
The BCI Asia Awards 2020 ceremony was merged with the 2021 edition due to pandemic restrictions. The event is considered a prestigious award ceremony for the construction and real estate industry, held annually in the Asian markets of Hong Kong, the Philippines, Indonesia, Malaysia, Singapore, Thailand, and Vietnam.
The event aims to encourage creativity in socially-responsible architecture and is also a forum for exchanges between domestic and international elite architectural firms, investors, manufacturers, and service providers.